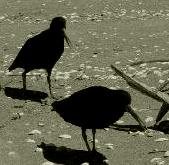 The Ryder family own a beachhouse at Stephens Bay, an hour's drive from Nelson City. The beachhouse has been owned by them since 1971, when Daphne and John were still living in Wellington but intending to shift to Nelson.
In 1991 the house was demolished and rebuilt with the present building. Since then, Stephens Bay (and Kaiteriteri) have undergone extensive redevelopment and now are very much urban centres - at least during the Christmas school holidays.
---
The old house featured the last "long drop" pit toilet in the bay. With connection to the sewage scheme and the fresh water reticulation replacing roof rain water collected in a tank the house is more luxurious than when it was originally purchased. We now have running water (both hot and cold), a shower, a flush toilet, satellite TV and a variety of other modern household comforts.
---
The house is available to rent by friends and relations etc. Please contact us by email to enquire about bookings.